What Do Silverfish Eat? Your Books & Paperwork!
Silverfish Pest Control - This may be tricky unless you know how to locate them, they like to live in quiet, undisturbed places in and around your home or business.
A silverfish infestation can occur when transported into a building in infested cardboard boxes or furniture.
Where they like to habitat:
Roof Spaces
Ceiling Voids
Wall Cavities
Built-In-Robes
Bookshelves ( they feed on paper)
Storage Boxes
Bathrooms/Laundries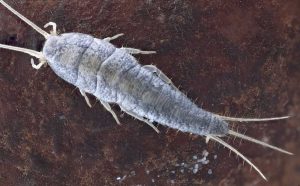 They love damp and humid conditions and thrive in plasterboard wall cavities feeding off the paper lining; they are starch feeders,
Silverfish are nocturnal and usually 13-25mm in length. They were named Silverfish because their abdomens tend to taper at the end, giving them a fish-like appearance.
The female Silverfish usually lay up to 100 eggs in her lifetime; they take between 2 weeks and 2 months to hatch.
Say Goodbye To Silverfish
Silverfish pest control can be a little bothersome for many folks; these critters can live for up to 3 years, and in that time can cause much damage.
We use safe and effective products at all times, and promise 100% customer satisfaction, or your money back!
Silverfish do not spread any known diseases, are non-toxic to humans, and are not known to bite humans.
They are simply a pest in the home or office, and any infestation needs eradicating!
Silverfish Pest Control
Please Call The

Bug

Wise

Team Today
KIND WORDS FROM OUR VALUED CUSTOMERS
"Great pest treatment, professional and detailed, thank you"
Peter - Oatley
"Really effective treatment, prompt service and good price, see you in 12 months"
Lorna - Brighton-Le-Sands
"Thanks for doing a top job at my showroom, no more rats, can't believe you actually got rid of them!"
Gerald - Pimpama
"Thanks for a friendly and professional service, from start to finish"
Meli - Brisbane
''We needed someone reliable and quick as the factory unit we'd moved into had pigeons in the roof. Exceptional work you guys, thanks"
Jane - Gold Coast
"We had heaps of spiders everywhere, I hate them! Thanks to BugWise, they've all gone"
Rosa -  Logan