We Focus On Protecting Our Clients From Pests In The Home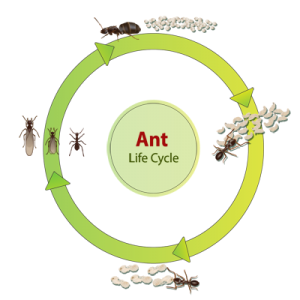 Ant Pest Control - The problem with ants is they quickly become a nuisance when they enter inside and get into food sources. Once a few ants arrive, hundreds more can usually follow. Foraging ants will enter the house or workplace when outside conditions are extremely dry or wet.  Colonies can be large, often containing hundreds of queens. The queens and larvae form will eat any protein or grease combination almost exclusively, while the workers will eat the sugar-based foods.
Although there are over 1300 different species of ants to date residing in Australia, we commonly see only four or five types around the home/business and garden.
The most common ants are:
Black House Ant
Bull Ant
Coastal Brown Ant
Argentine Ant
Carpenter Ant
Although not harmful, these ants are a nuisance in and around the home/business, and ant bites can often cause a painful reaction in humans.
Did You Know?
Ants are very noble in the insect world, as they have kings and queens back in the nest, including immature stages waiting to hatch. The ants you can often find in your kitchen,  garden and around your back door are the 'workers' and maybe some 'soldiers.' The ant's sting may be painful, and in general, they are an uninvited guest at your home or business; this is why we call them PESTS!
The winged males and females reproduce and leave a mature colony to set up on their own in a moist and secure crevice or crack. They drop their wings and produce eggs which later hatch into larvae and pupa; this then has to be tended and fed by the 'royal' couple. The young become sterile female adults or worker ants and in a short time, take over the operation, defence, and extension of the nest and forage for food.
Ant Pest Control - Exterminate Today!

 
Ant control can be a little difficult, but there are some things you should know about their behaviour, this will help you keep things under control.
Entry: Ants have the knack of entering through even the smallest cracks, seeking food and water; they love sweet and greasy matter usually found in your pantry or work surfaces.
Pheromone trails: Ants can leave an invisible chemical trail which contains pheromones for others to follow once they locate the food source.
Location Of Nests: Ants seem to nest anywhere in and around your home or office; in walls, foundations, under concrete slabs, lawns, and they seem to love old tree stumps.
Colony size: A single colony may contain thousands of Ants, and if the colony feels threatened, they can uproot and relocate quickly.
The lifetime of A Colony: A colony can live a very long lifetime. Worker ants may live for seven years, and the queen may live as long as 15 years.
Ant Pest Control - Our Treatment
We use proven techniques and approved products for the swift, safe and effective management of ant colonies, helping to prevent their return.
The products used have non-repellent ingredients that will effectively control ants by taking control of their social interaction. The ants naturally spread the product to the whole colony and even species with multiple nests can be wiped out.
Fairly new to the pest control industry are liquid and aerosol non-repellent sprays. They are becoming popular because they have proven to be a reliable control method for ants and other insects. This advanced undetectable insecticide means the ants cannot see, taste or smell the product. Therefore, the ants unknowingly acquire the chemical generally by contact with treated surfaces.
Ant problems can be controlled using this method because it's complete.
It's highly likely that without using the treatments listed below, the ants will continue.
Baiting the inside
Treating the inside with a liquid non-repellent residual spray
Treating the outside foundation with a liquid non-repellent residual spray
Baiting the outside
On-Going Ant Pest Control
There are a few things you can do to help with ant control in and around your home/business.
Maintaining a clean and hygiene area in and around your home/business.
Clean up uneaten pet food regularly, including food particles in and outside the home.
Keeping kitchen food preparation benches and floors free from crumbs, wash over or vacuum often.
If you can try to eradicate those sap-sucking insects from your garden plants, this will deny ants an attractive source of food.
Once control is established, we recommend that you continue with outside treatments to ensure that ants keep to a minimum; this will prevent future ant colonies from invading your home. We will leave extra ant bait for you to use.
Fast, Effective, and Safe Ant Pest Control 
Call The BugWise Team Today!
KIND WORDS FROM OUR VALUED CUSTOMERS
"Great pest treatment, professional and detailed, thank you"
Peter - Oatley
"Really effective treatment, prompt service and good price, see you in 12 months"
Lorna - Brighton-Le-Sands
"Thanks for doing a top job at my showroom, no more rats, can't believe you actually got rid of them!"
Gerald - Pimpama
"Thanks for a friendly and professional service, from start to finish"
Meli - Brisbane
''We needed someone reliable and quick as the factory unit we'd moved into had pigeons in the roof. Exceptional work you guys, thanks"
Jane - Gold Coast
"We had heaps of spiders everywhere, I hate them! Thanks to BugWise, they've all gone"
Rosa -  Logan