Cockroach Exterminator Sydney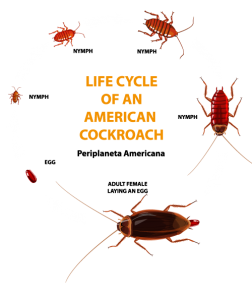 Cockroach Pest Control - one of the most common pests in households and businesses today, and they've been in existence for centuries!
Common Species
There are over 400 types of cockroaches in Australia, but generally, there are only about six that present themselves as a serious pest. Of those six, three primary species are prevalent in and around most areas, known as Australian, American and German cockroaches.
The larger Australian and American species usually fly in from outside. They can be found in basements, garages, common entryways, bathrooms, laundry and even the kitchen to search for water or food. But, they prefer to breed outside and live on trees.
The smaller German variety generally lives in small cracks and holes in your kitchen walls and floor. They are most often found behind a fridge, under the kettle, in cupboards or scurrying through to the bathroom.
Cockroach Pest Control
Useful Information 
They tend to prefer conditions similar to those that humans live in, like a nice warm environment and a place where there is easy access to food and water. Cockroaches can contaminate food preparation areas, including the food itself and the utensils. Their droppings, vomit, and skin can leave bacteria which can then trigger allergy attacks. Also, wherever an infestation of cockroaches occurs, it's usually followed by a foul odour, caused by their bodily secretions.
Cockroaches have evolved to become the most versatile pests around the world. Also, a cockroach can live up to one month without eating any food and two weeks without water, but if they can make your home theirs, they will have a steady supply of all the food and water they need.
Did You Know?
A female can lay anywhere between 10 and 40 eggs, and she will carry these in an 'egg case' called an ootheca.
Some female cockroaches only mate once and stay pregnant for life.
The lifespan of a cockroach is usually 12 months.
A cockroach can live for up to one week without its head!
Because they are nocturnal, you may not be aware of their presence.
Let's face it, these critters are a huge nuisance, but with our effective products, BugWise Pest Control will rid your property of cockroaches permanently. We use safe, fast, and effective products.
Our Treatment 
Australian, American and German Cockroach Pest Control
Find, Treat, And Eradicate Today!
We treat cockroaches using bait, and our treatment usually consists of a combination of the following:
Dust - this product penetrates all cracks and crevices hosing the cockroaches out of their living areas where they then die.
Spray -  we treat the interior of your home or building using a cockroach non-repellent spray to decrease their numbers.
Gel -  this gel is moist and attracts cockroaches, the ingredients contain carbohydrates and proteins which their diets need. Once they have fed on the gel baits, they die.
We apply the bait in strategic locations, including behind the fridge, cupboards, door frames, hinges, window sills and even under the kettle!
**Please remember to keep your kitchen area clean and free from open food scraps to reduce the chance of cockroaches returning. Try to declutter all the rooms to help stop a reinfestation.**
**Our baits are effective, but please take note of the point above.
Cockroaches Can Spread Disease 
Salmonella – often referred to as food poisoning
Staphylococcus – often referred to as golden staph, this can in extreme cases cause death
Streptococcus – this is an infection that may cause sore throats, skin conditions, fevers and even toxic shock syndrome in severe cases
 Cockroach Pest Control 
Call

Bug

Wise

today to book an appointment.
KIND WORDS FROM OUR VALUED CUSTOMERS
"Great pest treatment, professional and detailed, thank you"
Peter - Oatley
"Really effective treatment, prompt service and good price, see you in 12 months"
Lorna - Brighton-Le-Sands
"Thanks for doing a top job at my showroom, no more rats, can't believe you actually got rid of them!"
Gerald - Pimpama
"Thanks for a friendly and professional service, from start to finish"
Meli - Brisbane
''We needed someone reliable and quick as the factory unit we'd moved into had pigeons in the roof. Exceptional work you guys, thanks"
Jane - Gold Coast
"We had heaps of spiders everywhere, I hate them! Thanks to BugWise, they've all gone"
Rosa -  Logan