Bee Removal Domestic & Commercial
 Bee Pest Control - this can be a worrying issue for many households and businesses, and generally, we all want them gone in a humanly way. Bees are a beautiful and majestic insect with such good intentions to make this world a better place, and they do!
Many of our clients enjoy looking at bees in the back garden or patio working their magic amongst the colourful flowers and plants. However, when they start sharing our personal space with their nests, it's time for them to go!
History Of The Bee
The first honey bees were introduced to Australia around 1822; they arrived aboard the ship Isabella from England. With plentiful nectar and pollen sources supplied by the native eucalypts, they soon became widespread across the country.
Bees are ideally adapted to pollinate, helping plants grow, breed and so produce food. Over 30% of the food we eat relies on a honeybee to pollinate or fertilise the flower before it becomes a fruit or vegetable.
Thank a bumblebee today!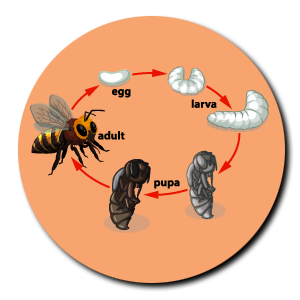 Where Do Bees Nest?
Honey bees sometimes leave their hive in search of another place to stay, like your house!
They may settle in trees on the way, but if they establish their nests between walls or inside buildings, this can present a big problem.
If a swarm of bees settle in your home or garden with their colony in tow, this is when the problem requires immediate treatment.
Many people are allergic to bee stings, and they can be painful too. Children, elderly folk and even the family pet are at risk of being stung, don't delay, treat the problem today!
Our priority is to stop the bees in their tracks, so unless you want to call in a qualified apiarist to remove and relocate the hive, we can rid your home or business immediately with minimal fuss.
All our technicians are highly skilled and experienced as per industry standards. They are trained to deliver an effective and professional bee control service.
So, if a colony of bees have decided to adopt your home, garden or office for their hive, it's time to evict them today!
Bee Pest Control - Our Treatment
Treatment involves the introduction of powder which is blown into their nest via the entry tunnel. The product we use usually works within 1 - 2 hours.
We also spray around the entry areas to stop the pheromones or any future nests forming by returning bees.
We can eradicate bees if they are living in the walls of your house, attic, or a tree in your garden.
Please call for more information on how we can treat your bee invasion or book an immediate appointment; do not attempt to get rid of them yourself, bees can be volatile!
Professional Bee Pest Control
Using Safe & effective Products
KIND WORDS FROM OUR VALUED CUSTOMERS
"Great pest treatment, professional and detailed, thank you"
Peter - Oatley
"Really effective treatment, prompt service and good price, see you in 12 months"
Lorna - Brighton-Le-Sands
"Thanks for doing a top job at my showroom, no more rats, can't believe you actually got rid of them!"
Gerald - Pimpama
"Thanks for a friendly and professional service, from start to finish"
Meli - Brisbane
''We needed someone reliable and quick as the factory unit we'd moved into had pigeons in the roof. Exceptional work you guys, thanks"
Jane - Gold Coast
"We had heaps of spiders everywhere, I hate them! Thanks to BugWise, they've all gone"
Rosa -  Logan